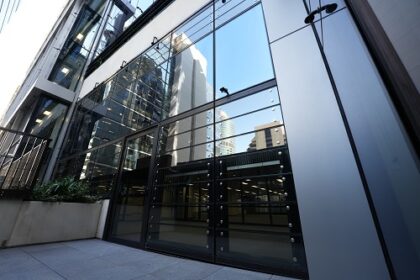 A huge congratulations to AsheMorgan and DMANN Corporation on Midtown Centre receiving a 6-Star Green Star Rating from the Green Building Council of Australia. 6-Stars represents the highest standard (World Leadership) in environmentally sustainable building practices.
Designed in line with the Brisbane City Council's "Buildings that Breathe" guidelines for a passive, subtropical design. Midtown Centre includes natural ventilation, operable windows and doors, an abundance of plants and ample outdoor space.
The intricate and innovative merging of two 20-storey structures, as opposed to the demolition and new build, saved an estimated 11,000 tonnes of carbon emissions; the equivalent of running the building fully occupied, carbon-neutral for four years.
EBSA was thrilled to be engaged by SRG Global to undertake the supply and installation of the Schneider LF550 automated single-glazed louvre system and D+H Mechatronic CPS-M control panels on this unique project; delivering natural ventilation to the building.
SRG Global's façade division undertook the design, supply and installation of the engineered curtain wall facades for the project.
Client: AsheMorgan & DMANN Corporation
Builder: Hutchinson Builders
Architect: Fender Katsalidis
Facade Company: SRG Global Facades